SparkNight: Women's History Month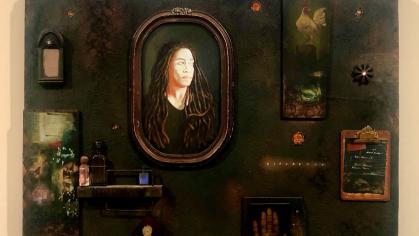 5:00-5:30 & 6:30-7:00 pm / Tour of Works by Women Artists in the Arts of the Americas Collection
5:00-7:00 pm / Art Activity with Rainbow Pines and Celebrating Latinx Arts & Works
5:00-8:00 pm / Musical Performances: Ariana Sowa Trio, RU Deep Treble, Shockwave
Free and open to the public. Complimentary refreshments. Food available for purchase from visiting food truck Flirty Desserts.
Thank you, to all of our campus and community partners in presenting this event!
Sisterwork * Latino Alumni Association at Rutgers University * Celebrating Latinx Arts & Works * Deep Treble * Shockwave * Rainbow Pines * Rutgers Center for Women in the Arts and Humanities * International Women's Group of Rutgers
Other Free, Public Events at the Zimmerli Today:
3:00 - 4:00 pm / The Federation of Art Song: Fellowship Award Finalists features a a program of works written by women composers during the past 20 years. Seating is limited; reserve yours!
6:00 - 6:30 pm / In conjunction with the exhibition Komar and Melamid: A Lesson in History, cellist Valeria Sholokhova reenacts a performance of the duo's work Music Writing: Passport, originally performed in 1976 simultaneously by the American cellist and performance artist Charlotte Moorman, as well as by pianists in more than 15 cities around the world. Learn more.
Free visitor parking is available by pre-registration at go.rutgers.edu/zamparking0302. Registration allows you to park in Lots 1, 11, 16, 26 & 30. Until this process is completed, your vehicle is not registered and you may receive a citation. Special event parking and special event permits are only for visitors to the university and does not include free metered parking. Faculty, staff, and students must park only in lots where they are authorized to park. Please note, this is a unique link for this event and not valid for any other dates or events.