Reenactment of "Music Writing: Passport"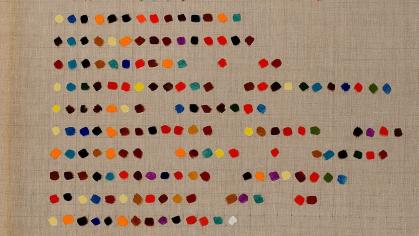 In conjunction with the exhibition Komar and Melamid: A Lesson in History, cellist Valeria Sholokhova reenacts a performance of Music Writing: Passport, which took place on February 7, 1976, at the Feldman gallery in New York. Komar and Melamid coded letters of the alphabet as musical notes. At the original performance, the American cellist and performance artist Charlotte Moorman (1933-91) played a score transposed from 10 of 38 regulations regarding the Soviet internal passport. Simultaneously, pianists in Moscow, London, San Francisco, Paris, and about 15 other cities played the same composition.
Free and open to the public. This program is supported by the Avenir Foundation Endowment Fund.
Other Free, Public Events at the Zimmerli Today:
3:00 - 4:00 pm / The Federation of Art Song: Fellowship Award Finalists features a a program of works written by women composers during the past 20 years. Seating is limited; reserve yours!
4:30 to 8 pm / SparkNight: Women's History Month features tours of work by women artists in the Arts of the Americas Collection, a hands-on art activity, and musical performances. Complimentary refreshments. See the full schedule!
Komar and Melamid, Soviet Constitution, Freedom of Speech Chapter. Ideological Abstraction, 1974. (detail) Tempera on unprimed canvas. Collection of the Nasher Museum of Art at Duke University. Gift of Mr. Andrew J. Feldman.