The Zimmerli is committed to making our museum accessible for all. Please read below to learn more about accessibility in our facilities and galleries and at our programs and events.
Questions or accommodation requests can be sent to Brandon Truett, Access Coordinator: btruett@zimmerli.rutgers.edu
---
Accessible Entrances and Parking
Visitors may be dropped off in front of the museum on Hamilton Street, just beyond the intersection with George Street. A designated accessible metered street parking space is available in front of the museum. From the parking spot, it is a short distance to the curb cut and then a brick, slip-resistant ramp with level landings to the museum front doors, which feature button-activated door openers and an intercom for assistance.
Visitors may also request permission to park in the university-managed lot at the side of the museum on George Street, which is adjacent to our street-level accessible entrance (opened only by using an intercom to contact our front desk attendant or with advance notice). Please contact our Access Coordinator for more information.
Additional accessible parking spaces are available in the New Brunswick Parking Authority's Gateway Garage, approximately 3 blocks from the museum, for a fee.
Museum Map
Below is a floorplan of the building (handouts of this map are also available at the front desk in the museum's lobby).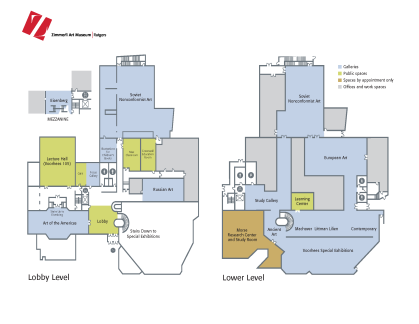 Elevators
The museum has three levels: ground level, lower level, and a mezzanine. All levels are accessible by a single elevator located in the lobby and via stairs.
Bathrooms
The museum has three sets of gendered bathrooms: in the lobby on the main level, as well as in the hall behind the Study Gallery and on the ramp leading to the European galleries on the lower level. All bathrooms have manual doors and wheelchair accessible stalls. 
Food and Drink
Food and drink are permitted in the lobby. There is a water fountain near the bathrooms on the ramp to the European galleries on the lower level.
Wheelchairs
Manual and electric wheelchairs are welcome in all areas of the museum. One manually operated wheelchair is available free of charge, on a first-come, first-served basis. Please ask the front desk attendant in the lobby for assistance.
Service Dogs
Service dogs are welcome.
Wi-Fi
Free wi-fi is available throughout Rutgers campus via RUWireless.
Gallery Seating
There are tables and chairs in our lobby and bench seating is available in most galleries. Small collapsible stools are located on the lower level at the base of the stairs and visitors are free to take and use throughout the museum.
Gallery Accessibility
Several galleries are connected by ramps/sloping walkways: the lobby and Russian Art gallery, the lobby and upper level Soviet Nonconformist gallery, the Study Gallery and lower level Soviet Nonconformist gallery, and the Contemporary and European Art galleries.
Some galleries may occasionally have low light levels to protect the artworks. Artworks may be placed on floor platforms or have stanchions placed in front of or surrounding them for their protection.
Accessible Gallery Texts
Gallery texts are available in large print at the front desk in the lobby. Other formats, including braille and audio description, are available with advance notice. 
Accessible Events
Services including sign language interpretation, captioning, and audio description are available for events with advance notice.
Tours
The Zimmerli welcomes groups of all abilities for tours. Tour content and format can be customized to meet your group's needs and objectives. To organize a tour for your group, please contact the Zimmerli's Education Department by phone at 848-932-6175 or by email to education@zimmerli.rutgers.edu at least three weeks in advance of your requested date. We are glad to discuss any questions you have about access or accommodations. Find out more about tours of the Zimmerli here.
Sensory InclusiveTM Certified
The Zimmerli is proud to be certified as sensory inclusive by KultureCity to improve our ability to assist and accommodate visitors with sensory needs, and provide an inclusive and seamless experience for all. Museum staff has received training on assisting patrons with sensory processing disorders, such as autism, and we offer the additional free resources below:
Sensory Bags containing special KCVIP badges, fidget tools, noise canceling headphones, and other resources are available for checkout from the front desk in the lobby
Weighted Lap Pad is also available for check out at the front desk.
Social Story click here for a social story to help you prepare for your visit to the Zimmerli.
KultureCity Sensory Inclusive App: Download the KultureCity App (Apple or Google Play)
Aira Access Partner
Rutgers University is proud to be an Aira Access Partner, providing free visual interpreting services throughout the Rutgers-New Brunswick campus. Any student, staff, faculty, or visitor can use Aira for free on a smartphone simply by downloading the Aira app and connecting with an agent.
Learn more about Aira on the Office of Disability Services website.
Visitors with Limited English Proficiency (LEP)
Select exhibitions and programs are offered bilingually, in English and Spanish. Staff and gallery attendants who speak languages other than English are identified by wearing badges.
Grievance Procedure
Please click here for the Zimmerli's grievance procedure for resolving complaints alleging violations of or noncompliance with Section 504 of the Rehabilitation Act of 1973, as amended, or the Americans with Disabilities Act of 1990.