The Federation of Art Song: Fellowship Award Finalists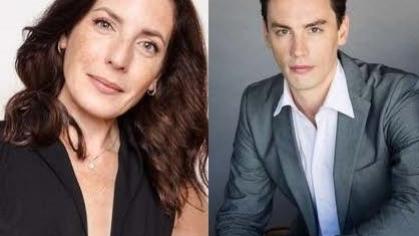 Enjoy performances by participants in the Federation of the Art Song (FAS) Fellowship Award, an international competition, which supports the careers of exceptional singers and collaborative pianists who share a passion for art song performance by providing opportunities, mentorship, and financial support.
The Semifinal and Final auditions of their inaugural competition for the 2022-2023 FAS Fellowship were held in October 2022, at the Manhattan School of Music, with nine duos of singer/pianist applicants.
March 2, 3 to 4 pm: Performance by Finalists
Soprano Jennifer Sgroe and pianist Eric Sedgwick were finalists in the competition. They perform a program of works written by women composers during the past 20 years.
Plus, stay for two other free, public events tonight:
4:30 to 8 pm / SparkNight: Women's History Month features tours of work by women artists in the Arts of the Americas Collection, a hands-on art activity, and musical performances. Complimentary refreshments. See the full schedule!
6 to 6:30 pm / In conjunction with the exhibition Komar and Melamid: A Lesson in History, cellist Valeria Sholokhova reenacts a performance of the duo's work Music Writing: Passport, originally performed in 1976 simultaneously by the American cellist and performance artist Charlotte Moorman, as well as by pianists in more than 15 cities around the world. Learn more.
May 7, 2 to 4 pm: Performance by Winners
Baritone Jared Michaud and pianist Christina Koti were awarded the 2022-2023 FAS Fellowship. They perform an innovative expression of the Art Song. A reception follows the performance.
Concerts are free and open to the public, but seating is limited. Please RVSP on Eventbrite: go.rutgers.edu/fasrsvp0302
About FAS
Believing strongly in the value of songs of all genres sung in classical style, the Federation of the Art Song (FAS) helps deserving singers and collaborative pianists to develop their artistic abilities and identities. Their goal is to educate the public on the expanding catalogue of song repertoire from a multitude of sources and communities, thus benefitting audiences and artists alike. For more information, visit www.fasong.org/.
About the Performers
Jennifer Sgroe has performed in opera, recitals, and on the concert stage across the US and at festivals in Finland, England and Austria in venues such as Radio City Music Hall, Carnegie Hall, and the United Nations. She specializes in contemporary American opera and repertoire of the Baroque and Classical eras and is a proponent of new vocal works, especially by underrepresented composers.
Eric Sedgwick has performed with many of music's top talents including Leona Mitchell, Sanford Sylvan, and Marni Nixon; Broadway leading ladies Sarah Rice, Carole Demas, and Debra Monk; and English hornist Thomas Stacy of the New York Philharmonic. A frequent performer and collaborator in the New York City area, Eric is a vocal coach at the Manhattan School of Music and the faculty collaborative pianist for the Tanglewood Music Center, as well as the official pianist for the Art Song Preservation Society of New York and a rehearsal pianist for the Boston Symphony Orchestra. On the west coast, he has been a longtime coach and music director for the OperaWorks training program in Los Angeles.
In March 2022, Jennifer and Eric launched Program One: From Isolation to Inspiration of the PROJECT 2020 recital series, in New York and Boston. PROJECT 2020 offers a view of 21st-century women composers and features the songs of 20 women composers written within the past 20 years over two unique recital programs.
Jared Andrew Michaud is a London-based Franco-American baritone who recently obtained an MA in Vocal Performance & Music Education with Distinction from Trinity Laban Conservatoire of Music & Dance in London. Jared has trained and performed with companies such as the College Light Opera Company, Quisisana Resort, and Berkshire Choral International, Welsh National Opera singing Barabashkin in their Young Company production of Shostakovich's Cheryomushki.
Christina Maria Koti is a London-based Greek pianist who recently completed an MMus in Piano Performance at Trinity Laban Conservatoire of Music & Dance in London, with the Trinity College of Music scholarship. Christina Maria has taken part in international music festivals and competitions such as the Gnessin Academy Summer Festival, the Concorso International Pianistico citta Villafranca di Verona, the Glasgow Music Festival, the Horto Festival, and the Dinu Lipatti International Piano Competition. She also has appeared in collaborative piano recitals and concerts in the UK, France, Italy, Russia, and Greece.
Jared and Christina won first prize in the 2022 Elisabeth Schumann Lieder Duo Competition and the 4th International SGSM Singing Competition in Slovenia (Lieder Duo category).