SparkNight: Holiday Cheer & Artful Joy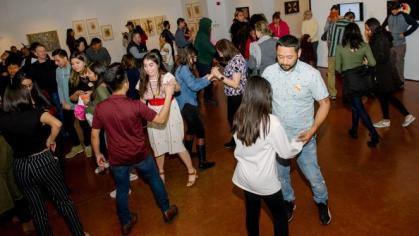 Meet up with old friends—and make new ones—to kick off the holidays!
And don't miss these exhibitions before they close December 23:
Free and open to the public. Complimentary light refreshments. And wear your favorite ugly sweater or jumper!
Free visitor parking is available by pre-registration at go.rutgers.edu/zamparking1201. Registration allows you to park in Lots 1, 11, 16, 26 & 30. Until this process is completed, your vehicle is not registered and you may receive a citation. Special event parking and special event permits are only for visitors to the University and does not include free metered parking. Faculty, Staff, and Students must park only in lots where they are authorized to park. Please note, this is a unique link for this event and not valid for any other dates or events.

Grant funding has been provided by the Middlesex County Board of County Commissioners through a grant award from the Middlesex County Cultural and Arts Trust Fund. Additional support is provided by the New Brunswick Parking Authority.