Zimmerli Opening Celebration for Campus and Community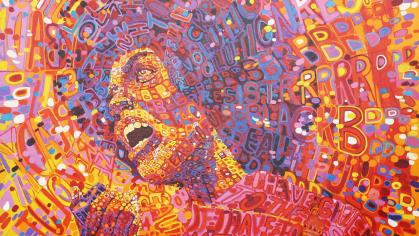 Opening remarks by Rutgers President Jonathan Holloway and music performed by the Jerry Weldon Quartet (Jerry Weldon, Kyle Koehler, Byron Landham, and Cynthia Soriano), presented through the New Brunswick Jazz Project.
Light refreshments will be served.
For a complete list of exhibitions on view, please visit https://zimmerli.rutgers.edu/art/exhibitions.
Parking Information:
Guests to the university may park in the Rutgers Lots 1, 11, 26 & 30 for this event, using this link to register your vehicle: https://rudots.nupark.com/events/Events/Register/f2e55d7f-ad1f-4805-b11e-afa89ab3de4b. Until this process is completed your vehicle is not registered and you may receive a citation. Special event parking and special event permits are only for visitors to the University which does not include free metered parking. Faculty, Staff, and Students must park only in lots they are authorized to park in.
COVID-19 Safety Protocol for In-Person Events
· Masks must be worn at all times, completely covering the nose and mouth, except when actively eating or drinking.
· Wash or sanitize hands frequently.
· There are hand-sanitizing stations throughout the museum, as well as restrooms on both levels of the building.
· Practice social distancing whenever possible.
· If you are sick or do not feel well, please stay home.
· If you feel uncomfortable at any time during an event, you may leave the area.
The Zimmerli reserves the right to revise protocols at any time. This includes, but is not limited to altering event capacity, adding safety precautions, or canceling an event.
More about the Jerry Weldon Quartet:
Renowned and respected on the global jazz scene as a "musician's musician", Jerry Weldon is a first-class showman who has been performing professionally for more than 40 years. He blows his horn with his entire body and delights audiences with his all-in, soulful playing. Jerry joined the Lionel Hampton Orchestra immediately after graduating from Rutgers Jazz Studies Program/Livingston College in 1981. After his stint with Hampton, Jerry went on to perform with a host of jazz giants including George Benson, Jack McDuff, Jimmy Cobb, Jimmy McGriff, George Cables, Cedar Walton, Roy Haynes, Mel Tormé, Dr. Lonnie Smith, and Joey DeFrancesco among many others. In 1990 he became a charter member and featured soloist with Harry Connick Jr.'s band and Jerry continues to perform with Connick in concert, on television and on Broadway. Jerry has 11 CD's as a bandleader and appears as a sideman on hundreds more. In addition to regular appearances at New York jazz clubs, Jerry has played legendary venues and festival stages the world over.
Weldon's quartet on October 14 will include master Hammond B-3 organist, Kyle Koehler, internationally acclaimed drummer Byron Landham and Jazz Mobile Vocal Competition "People's Choice" winner, Cynthia Soriano.
Jerry serves on the Board of Trustees of the New Brunswick Jazz Project, a local non-profit group that has been presenting world class jazz performances in downtown New Brunswick and other New Jersey locations for the past 11 years.
Angela Davis - Seize the Time is supported in part by the National Endowment for the Arts and The Andy Warhol Foundation for the Visual Arts. Grant funding has been provided by the Middlesex County Board of County Commissioners through a grant award from the Middlesex County Cultural and Arts Trust Fund. Additional support is provided by Andrew W. Mellon Foundation Endowment, Voorhees Family Endowment, Estate of Regina Heldrich, and donors to the Zimmerli's Major Exhibitions Fund: James and Kathrin Bergin, Alvin and Joyce Glasgold, and Sundaa and Randy Jones.
Communism Through the Lens: Everyday Life Captured by Women Photographers in the Dodge Collection is made possible by the Avenir Foundation Endowment Fund and the Dodge Charitable Trust – Nancy Ruyle Dodge, Trustee.
Image: Wadsworth Jarrell, Revolutionary (detail), May 20, 1972, color screenprint on paper. Lisbet Tellefsen Archive. © Wadsworth Jarrell.