Walls/Gates/Bridges: An Anti-Carceral Gathering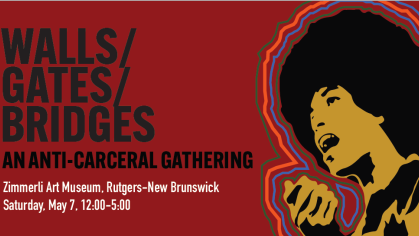 Walls/Gates/Bridges celebrates Angela Davis's anti-carceral activism, spanning more than 50 years. The program welcomes New Jersey's leading anti-carceral activists, as well as contributions from survivors of incarceration and scholars about continuing Davis's struggle for justice and freedom in the state.  
Schedule (Participants are welcome to join for all or part of the day.)
11:30am  Check in
• Coffee, distribution of programs, brochures on display

12:00pm Gallery Visits
• Welcome/overview by exhibition curators, Donna Gustafson, Zimmerli Chief Curator, and Gerry Beegan, Professor of Design History, Rutgers' Mason Gross School of the Arts
• Viewing of exclusive video interview with Angela Davis and self-guided tours of the Angela Davis - Seize the Time exhibition
• Presentation by artist and activist Maureen Kelleher about the exhibition Stitching Time: The Social Justice Collaboration Quilts Project (offered again at 12:30, 4:00, and 4:30pm)
1:00pm Angela Davis and Carceral Justice
• Opening remarks from Dr. Maura Reilly, Zimmerli Director
• Introduction by Nafeesah Goldsmith, Prison Justice Watch
• Keynote by Dr. Keeanga-Yamahtta Taylor, Princeton University

1:45pm Break
• Coffee and light refreshments served; exhibitions open for viewing
2:30pm Roundtable on Carceral Justice in New Jersey
• With Rev. Charles Boyer and Rev. Amos Caley, Salvation and Social Justice; Ronald Pierce, New Jersey Institute for Social Justice; Antonne Henshaw and Russ Owen, Transformative Justice Initiative; Boris Franklin, NJ Together, and Nafeesah Goldsmith, moderator

4:00pm Gallery Discussions
• Guided discussions in Angela Davis - Seize the Time
• Presentation by artist and activist Maureen Kelleher about the exhibition Stitching Time: The Social Justice Collaboration Quilts Project (repeated at 4:30)
This event is part of Angela Davis – Seize the Time, a groundbreaking exhibition documenting Davis's arrest, imprisonment, trial, and the international campaigns to free Davis and all political prisoners, and her ongoing activism that continues to inspire artists and activists today. The exhibition includes more than 250 rare posters, magazines, photographs, court sketches, videos, music, and writings, as well as works by contemporary artists.
Cosponsored by NJ-STEP, the New Jersey Scholarship and Transformative Education in Prisons Consortium at Rutgers. This program is supported in part by the National Endowment for the Arts.
Visitor parking is available by pre-registration at https://rudots.nupark.com/v2/portal/eventregister/0111a423-f939-47ba-9716-eb9a8dd2477b#/events/registration/. Registration allows you to park in Lots 1, 11, 16, 26 & 30. Until this process is completed your vehicles is not registered and you may receive a citation. Special event parking and special event permits are only for visitors to the University which does not include free metered parking. Faculty, Staff, and Students must park only in lots they are authorized to park in.