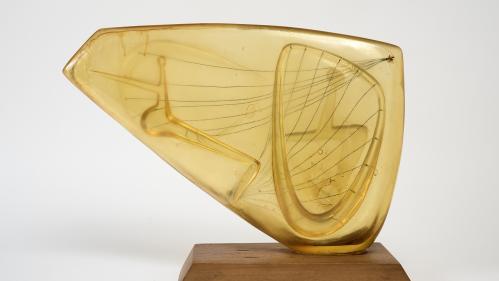 Polymorphic Sculpture: Leo Amino's Experiments in Three Dimensions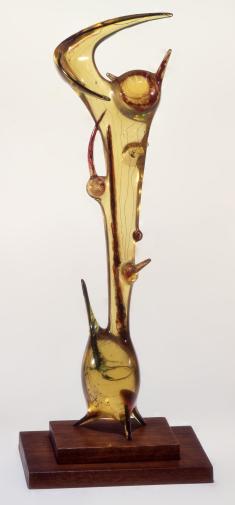 The sculptor Leo Amino (1911-1989) was born in Taiwan and raised in Tokyo. He arrived in California as a student in 1929 and soon settled in New York where he briefly studied direct carving with the artist Chaim Gross. Beginning with wood and moving into plastics, resins, and mixed media, Amino strove to open up sculptural space and incorporate color, light, and transparency into three dimensions. As one of the first American artists to work with plastics, he pioneered complex casting techniques working in his home studio. Rather than sketch out his ideas for sculpture (1949 was the only year in which he kept a sketchbook), he worked out his sculptural ideas in three-dimensions through trial and error, often consulting local industries for refinements in recipes, temperatures, and other variables. His innovative and polymorphic sculpture (polymorph describes a creature or chemical with various forms) drew from nature, American modernism, European surrealism and constructivism, Henry Moore's biomorphic forms, and the new materials that were being introduced into American manufacturing after World War II. Like many artists in New York in these years, he was also inspired by the displays and scientific collections at the American Museum of Natural History in New York.
Amino had a successful career as an exhibiting artist in New York. He exhibited at the World's Fair of 1939, and regularly in galleries on 57th Street, at the Clay Club (now the Sculpture Center), and at Whitney Biennials. Invited by Josef Albers to teach at Black Mountain College in 1947, Amino traveled to North Carolina with Jacob Lawrence, who was forced to move to the back of the train as they crossed into the Jim Crow South. After a second appointment at Black Mountain in 1950, Amino remained in New York where he preferred to live and work, teaching at the Cooper Union from 1952 to 1977. Among his students was the painter Jack Whitten (1939-2018) whose sculpture was recently featured in an exhibition at the Met Breuer in New York. This selection of Amino's work is drawn primarily from the Zimmerli's collection and marks the first time that a large group of his works are on view since the retrospective organized by the museum in 1985.
Organized by Donna Gustafson, Curator of American Art and Mellon Director for Academic Programs
Exhibition was on view in the Littman Gallery, October 20, 2018 - April 12, 2020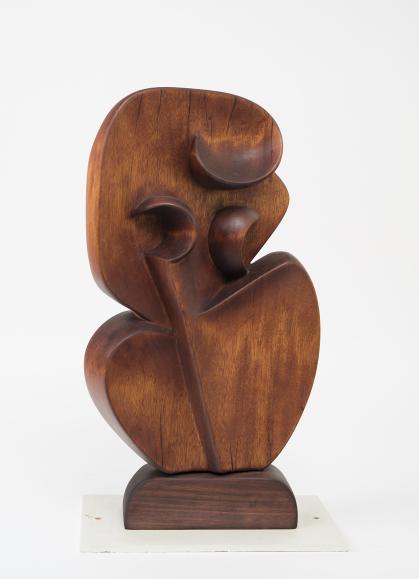 In 1937 Leo Amino enrolled in the American Artists School in New York and studied with Chaim Gross. Gross was one of a group of artists who espoused a direct carve approach (working without making preliminary models or sketches). Encouraging his students to exploit the natural properties of their materials, he also urged his students to make spontaneous decisions in the process of carving. These working methods and attention to the possibilities inherent in the material remained an important part of Amino's aesthetic throughout the course of his life.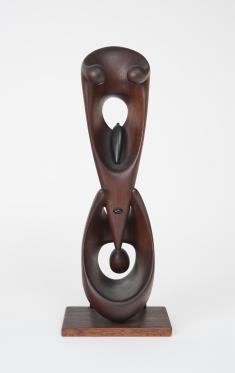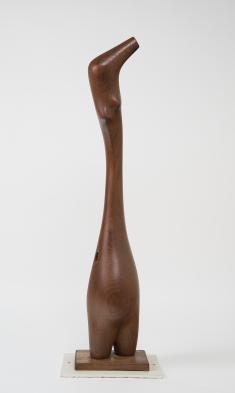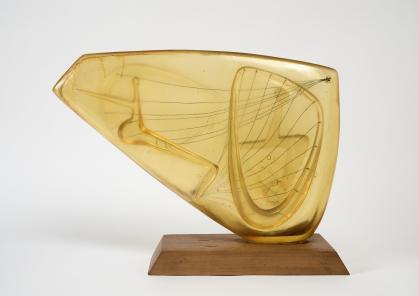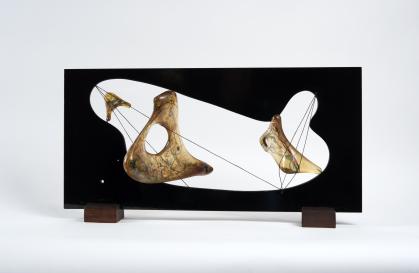 Polyester resin first became available in 1942. When Amino began his earliest experiments with polyester resin, the material that he had used was a honey-brown color that resembled amber, a fossilized tree resin that is common in jewelry and decorative objects. While this amber color was unavoidable, Amino seems to have reveled in the link between his work and a natural process that also encased elements within translucent layers. In Carnivorous Plant #22, the artist experiments with pigments, threads, and netting set within the transparent body. In contrast such polymorphic figuration, Inter Play #11 suggests a dynamic play in space between two forms precariously balanced within the central open space of a rectilinear field.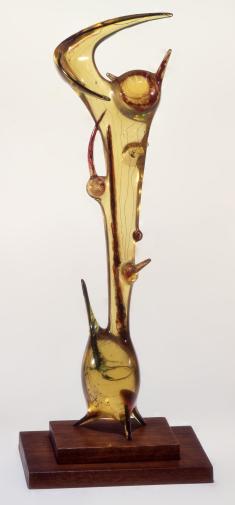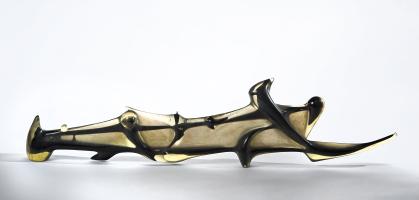 The American Museum of Natural History in New York served as inspiration to many American artists in the 1940s and 1950s. Amino's family remembers his fascination with the displays of transparent jellyfish swimming in water within glass enclosures. Among the largest of Amino's sculptures, Creature of the Deep is the artist's most ambitious cast sculpture. The interior skeletal form is formed of a polyvinyl acetate mixture supported by a metal armature that is surrounded by a second cast of green-tinted polyester resin compound. The dynamic and emphatically horizontal figure is a technical tour-de-force and recalls the hybrid forms of David Smith and Theodore Roszak, two artists of Amino's generation who also frequented the Natural History museum as part of their ongoing search for new and innovative form.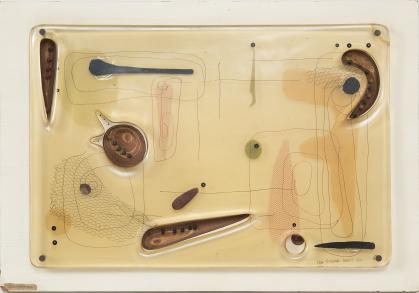 Amino used a common kitchen cookie pan to create this cast plastic relief. As he would do in his three dimensional works, he poured resin into the mold, added thread and pieces of mesh, then added more resin to encase the materials within the form. In addition, the artist carved biomorphic forms directly into the cast resin and the backing board to give the relief even more spatial play. Composition #25 is among the most surrealistic of Amino's works and recalls the biomorphic abstractions of Joan Miró, André Masson, Yves Tanguy, and Kay Sage.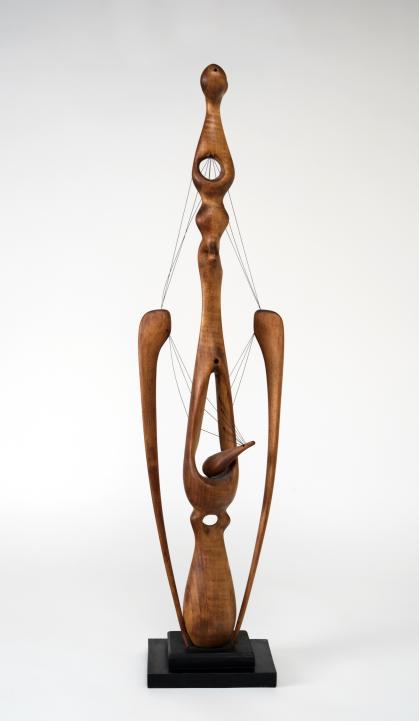 Even after adopting plastic as his primary medium, Amino continued to carve directly in wood. Amino used exotic woods and often repurposed found wooden objects for his sculpture. The totemic Stamen, for example, was carved from a bed post and references the lathed form of such household furniture while removing most of the central core. The title, Stamen, refers to the male organ of a plant responsible for producing pollen and the undeniably phallic form of the sculpture suggests both a wry humor and an interest in nature's systems of reproduction. Amino's pursuit of transparency even in his wooden sculptures is evident in the sculpture's embrace of negative interior space.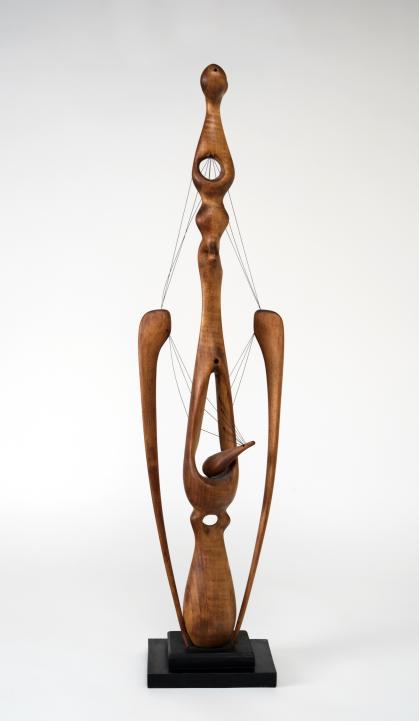 While Amino's interests in nature and the processes of growth were often tied to biology, he also exhibited an interest in mythology that tied him to a current of American surrealism in the post-World War II period. Titled after a mythical bird that rises after its own death, Amino's Phoenix is carved from several pieces of maple that are joined together by cotton thread. The airy lightness of the sculptural form seems to suggest the new-born phoenix emerging from its bed of ashes.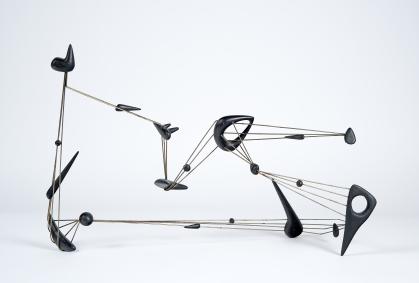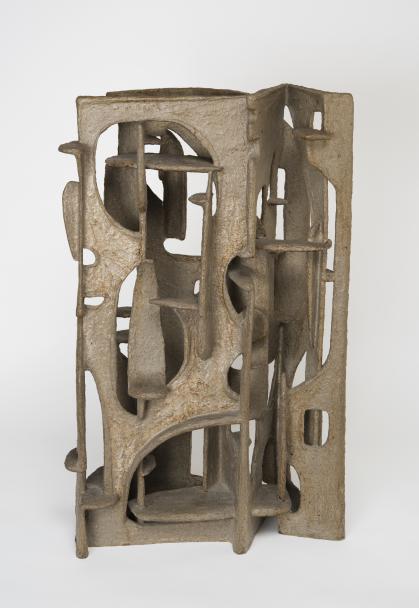 Amino briefly experimented with an opaque, polyvinyl acetate mixture that he developed as another material for sculpture. Mixing the polyvinyl acetate with sand and sometimes with pigment, he used the material as a soft paste that could be added to a structured armature. In Mansion, Amino created a wire mesh armature and used the mix to coat the armature with a thick layer of impasto.. The sand added a gritty surface texture that echoes a sculpted surface. This innovative exploration of plastic allowed Amino to imitate the surfaces of brazed metals (like welded bronze), stone, and fired terracotta sculpture. Mansion is an architectural subject that experiments with open form in three dimensions.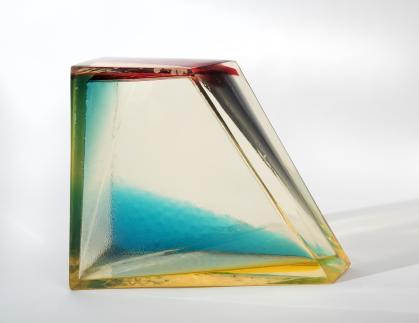 As polyester resin was further developed in the decades of the 1940s and 1950s, a clear and transparent resin that handled color well became available. Using this new clear resin, Amino combined his interest in light refraction with a renewed effort at creating coloristic effects. Developing technical agility in casting, carving, and embedding color, Amino worked to create solid objects that shifted and changed as the viewer moved around them, creating a transparent effect that erased the sculptural weight of the objects. By the late 1960s, Amino began to create groups of sculptures that incorporated shifting relationships among the parts and encouraged different final configurations. Refractional #48 is a group of four discrete objects that has no fixed arrangement.