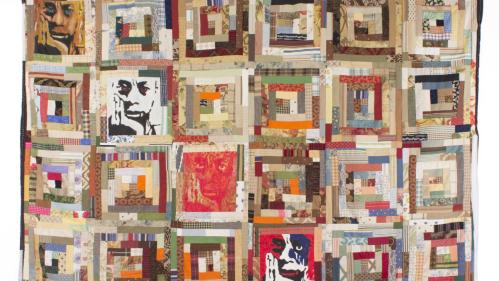 Stitching Time: The Social Justice Collaboration Quilts Project 
This virtual presentation accompanies Stitching Time: The Social Justice Collaboration Quilts Project, on view at the Zimmerli Art Museum, September 1, 2021 through July 15, 2022.
In 1997, inmates serving life sentences at Louisiana State Penitentiary, known colloquially as "Angola" after the former plantation on which it is located, created a hospice program to care for the dying among them. To raise money for the program, the Angola hospice volunteers, themselves  sentenced to life imprisonment, made and sold quilts. In 2012, one of the hospice quilters, Kenya, and his long-time friend, Maureen Kelleher, founded the Social Justice Collaboration Quilts Project. The goal of the Project is to support artists who work behind prison walls and give voice to the political consciousness of  imprisoned and free quilters. The Project has since spread beyond Angola Prison to include incarcerated quilters in other institutions.
This exhibition focuses on work made by the founders of the Social Justice Collaboration Quilts Project, Kenya, and Kelleher, and the first member of the Project, Sharif. Their quilts address racial injustice in American history and celebrate Black creativity, thought, and political activism. The exhibition is bookended by Love, created by volunteers for the still-active Angola hospice program, and I Can't Breathe, Eric Garner, with contributions by newer Project members, Ramsey Orta and Kenny "Zulu" Whitmore.
Each quilt in this exhibition is paired with an audio recording, featuring the quilters reflecting on their work, along with music that captures the spirit of the Project.
Click here to access the recording and transcript for each quilt.
Organized by Maureen Kelleher and Hannah Shaw, Graduate Curatorial Assistant, with the assistance of Donna Gustafson, Curator of American Art and Mellon Director for Academic Programs and Interim Director.
Image: Kenya (assembled and hand quilted by Maureen Kelleher), Red, White & Baldwin (detail), 2015. Cotton fabric, cotton batting, thread, paint, 90 x 90 in. (228.6 x 228.6 cm). Courtesy of Maureen Kelleher. Photograph by Max Yawney