Three Archival Events / Session 1: Issues in Black Archival Work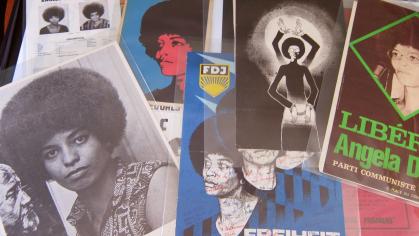 To celebrate American Archives Month this October, the Zimmerli is hosting a series of virtual discussions in conjunction with the exhibition Angela Davis - Seize the Time.
Session 1: Issues in Black Archival Work 
An exploration of contemporary models of memory work and archival practices.
Moderator: Alexandria Russell, Ph.D. Research Fellow, Radcliffe Institute for Advanced Study, Harvard University
Participants: 
Zakiya Collier, Independent Archivist, Brooklyn, Project Archivist at Weeksville Heritage Center 
Tracy Drake, Professional Archivist, Member of the Blackivist Collective, Head of Special Collections and Archives at Reed College with expertise in Chicago Black Panther Party 
Lisbet Tellefsen, Private Archivist of Angela Davis Collection
Series Info:
The exhibition Angela Davis: Seize the Time is centered on a rich archive including magazines, posters, booklets, flyers, vinyl records, legal documents, and court sketches collected by the Oakland-based activist/archivist Lisbet Tellefsen. This material is intertwined with artworks that speak to Angela Davis' story, and history and memory more broadly. This series of online events in Archives Month looks at broader issues of Black memory work and archives. It brings together professionals archivists, scholars, activists, musicians, and artists to discuss the challenges posed by social erasure and institutional entombment and to consider ways in which individuals and communities can gather, sustain, and give life to Black material culture both tangible and intangible. The series is organized by Professor Gerry Beegan, of the Department of Art & Design, Mason Gross School of the Arts at Rutgers. Beegan is a design historian and co-curator of the exhibition.
This project is supported in part by the National Endowment for the Arts and The Andy Warhol Foundation for the Visual Arts. Grant funding has been provided by the Middlesex County Board of County Commissioners through a grant award from the Middlesex County Cultural and Arts Trust Fund. Additional support is provided by Andrew W. Mellon Foundation Endowment, Voorhees Family Endowment, Estate of Regina Heldrich, and donors to the Zimmerli's Major Exhibitions Fund: James and Kathrin Bergin, Alvin and Joyce Glasgold, and Sundaa and Randy Jones.
Image: Selection of material from Lisbet Tellefsen's archive. Courtesy of Lisbet Tellefsen
Friday, October 22, 2021, 12:00 p.m.-1:30 p.m. | Online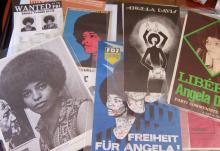 Thursday, October 28, 2021, 7:00 p.m.-8:30 p.m. | Online