Stitched Together: A Quilting and Social Justice Workshop - Session 2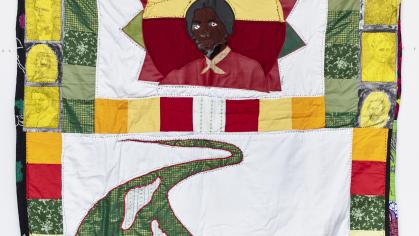 How can art be an instrument of change? Join us for a special hands-on workshop with Maureen Kelleher, co-founder of the Social Justice Collaboration Quilts Project, whose goals are to support artists who work behind prison walls and give voice to the political consciousness of imprisoned and free quilters. After a guided conversation in the exhibition of the SJCQP's work at the Zimmerli, participants will work on an individual patch to contribute to a collaborative quilt.
No sewing or arts experience is necessary. All materials will be provided and light refreshments will be served.
This free workshop is open to Rutgers students, faculty, staff, and members of the general public. The same workshop is offered on 3 dates, April 9, 23, and May 1; please only register for one date per person. Space is limited. 
Contact education@zimmerli.rutgers.edu with any questions or to request accommodations.
This program is made possible by an IDEA Innovation Grant Award from Rutgers University's Division of Diversity, Inclusion and Community Engagement .