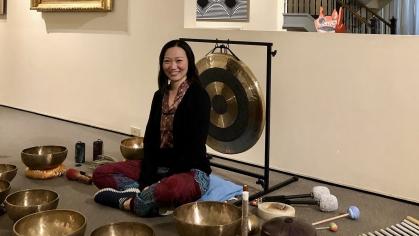 Incorporate ART Into Your Wellness Plans:
4:30 to 8 / Ariana Sowa Quartet
4:30 to 8 / Coloring Table
5 to 7 / Art Activities: Model Magic and Watercolor
5:30 to 6 & 6:30 to 7 / Guided Gallery Tours
6:15 to 6:45 / Chair Yoga & Meditation with SKY Sound Yoga
7 to 7:30 / Sound Bath with SKY Sound Yoga
Plus: Button Making with Megan Lotts from the Art Library
Free and open to the public. Complimentary light refreshments. Food available for purchase from visiting food truck Flirty Desserts.
Learn More About: The Pride Center of New Jersey * New Jersey Art Therapy Association * Rutgers Student Health: Alcohol & Other Drug Assistance Program (ADAP)
Free visitor parking is available by pre-registration at go.rutgers.edu/zamparking0504. Registration allows you to park in Lots 1, 11, 16, 26 & 30. Until this process is completed, your vehicle is not registered and you may receive a citation. Special event parking and special event permits are only for visitors to the university and does not include free metered parking. Faculty, staff, and students must park only in lots where they are authorized to park. Please note, this is a unique link for this event and not valid for any other dates or events.