SparkNight: Opening Celebration and Dance Party for "American Stories: Gifts from the Jersey City Museum Collection"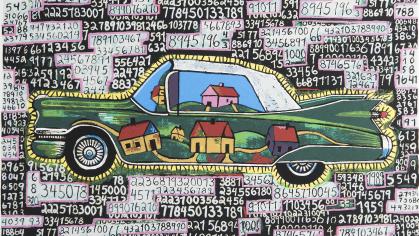 The Zimmerli kicks off the new year with an evening of activities that invite you to explore and experience the exhibition American Stories: Gifts from the Jersey City Museum Collection.
Exhibition Tour (5 & 6:30 pm)

Scavenger Hunt (5-7 pm)

Director's Remarks (6 pm)

Film Screening: Phans of Jersey City (7-8 pm)
New at SparkNights! Art Party Dancing with DJ Derrick Braxton, DJ Wes, DJ Ali Coleman, and Germain Brito throughout the evening.
Plus: Learn more about casting your vote this fall with RU Voting. Voter registration and vote-by-mail application assistance will be available from 4:30 to 7:30 pm.
Free and open to the public. Complimentary light refreshments.
Free visitor parking is available by pre-registration at https://go.rutgers.edu/2dgb0dzf. Registration allows you to park in Lots 1, 11, 16, 26 & 30. Until this process is completed, your vehicle is not registered and you may receive a citation. Special event parking and special event permits are only for visitors to the University and does not include free metered parking. Faculty, Staff, and Students must park only in lots where they are authorized to park. Please note, this is a unique link for this event and not valid for any other dates or events.

Grant funding has been provided by the Middlesex County Board of County Commissioners through a grant award from the Middlesex County Cultural and Arts Trust Fund. Additional support is provided by the New Brunswick Parking Authority.