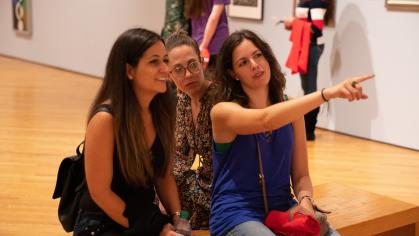 Spark your curiosity. Spark your creativity. Spark a connection. Come see what the Zimmerli sparks in you.
This month, we're very excited to be partnering with the Highland Park Guerrilla Art Club, a group of young artists mentored by Nicole Gonzalez (creator of If, at the Zimmerli).
The GAC will be offering a variety of activities, including an "alter ego" portrait studio inspired by our new acquisition, Renee Stout's The Black Wall, 10-minute tours (see the museum from a kid's perspective), and a large-format "exquisite corpse" activity (inspired by the surrealist game). You can also take in a guided tour of the Angela Davis exhibition at 6pm, explore this month's mix of creative gallery games and activities, and unwind over a complimentary glass of wine or beer (21+). Plus, Rolling Yatai will be parked out front, offering a delicious menu of Japanese food for purchase. 
Visitor parking is available by pre-registration at https://rudots.nupark.com/v2/portal/eventregister/b1c25872-e4d1-456e-80e8-8b69fc8de13a#/events/registration/. Registration allows you to park in Lots 1, 11, 16, 26 & 30. Until this process is completed your vehicles is not registered and you may receive a citation. Special event parking and special event permits are only for visitors to the University which does not include free metered parking. Faculty, Staff, and Students must park only in lots they are authorized to park in.

Grant funding has been provided by the Middlesex County Board of County Commissioners through a grant award from the Middlesex County Cultural and Arts Trust Fund. Additional support is provided by the New Brunswick Parking Authority.