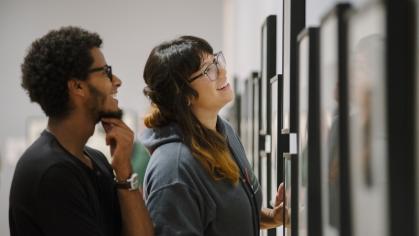 Don't miss SparkNight, our new monthly series featuring an always-changing, always-engaging set of activities inspired by the art on view in our galleries. 
Explore this month's mix of creative gallery games and activities and in our studio, make your own winter landscape using just black and white inspired by the work of Roger Duvoisin.
Please note: no refreshments will be served this month.
Visitor parking is available by pre-registration at https://rudots.nupark.com/v2/portal/eventregister/acfff074-ed84-4ed5-ae70-e9863e1861f6#/events/registration/. Registration allows you to park in Lots 1, 11, 16, 26 & 30. Until this process is completed your vehicles is not registered and you may receive a citation. Special event parking and special event permits are only for visitors to the University which does not include free metered parking. Faculty, Staff, and Students must park only in lots they are authorized to park in.
SparkNights are presented with the support of the New Brunswick Parking Authority and Rutgers Global. Grant funding has been provided by the Middlesex County Board of County Commissioners through a grant award from the Middlesex County Cultural and Arts Trust Fund.