SparkNight: Disability Awareness Month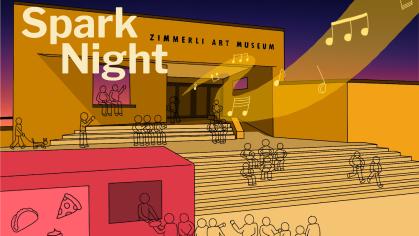 SparkNight is the free monthly art party at the museum inviting everyone to explore art, engage their creativity, and have fun!
In October, join us for the launch event for Disability Awareness Month. Enjoy curated playlists, an art-making workshop, an exhibition highlights tour, and light refreshments. Plus, meet representatives from a range of community and university partners, as they highlight resources and topics related to disability, access, and inclusion.
For additional programs and resources, visit Rutgers Disability Awareness Month.
5:00 to 7:00 pm / Art Activity: Collaging Identity / Experiment with collage by using a variety of materials that have different textures and sensory experiences. Inspired by the printmaking processes of the artists on view in The Brodsky Center at Rutgers University: Three Decades, 1986–2017.
5:00 to 7:30 pm / New Brunswick Jazz Project Presents Ilan Eisenzweig Trio
5:30 to 6:00 pm / Remarks & Learn More About Rutgers Disability Awareness Month
6:00 to 6:30 pm / Object Chat / Join an in-depth exploration of one of the artworks in The Brodsky Center at Rutgers University: Three Decades, 1986–2017.
Free and open to the public. Complimentary light refreshments. Food also available for purchase from Chef Deluxe Me food truck in front of the museum, 12 noon to 8pm.
Accessibility Information:
Accessible entrance
ASL interpreter provided
Microphones used to amplify sound
Accessible seating available
Free visitor parking is available by pre-registration at go.rutgers.edu/sn1005. Registration allows you to park in Lots 11, 16, 26 & 30. Until this process is completed, your vehicle is not registered and you may receive a citation. Special event parking and special event permits are only for visitors to the university and does not include free metered parking. Faculty, staff, and students must park only in lots where they are authorized to park. Please note, this is a unique link for this event and not valid for any other dates or events.
For directions to campus parking lots, search by the lot number on the Rutgers map.
Lot 16 is the closest to the Zimmerli, located behind the museum. For directions, you also may use the address 536 George Street, New Brunswick, NJ 08901, which is the building located next to the lot entrance.