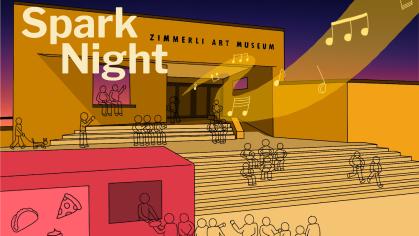 SparkNight is the free monthly art party at the museum, inviting everyone to explore art, engage their creativity, and have fun!
In December, join us for an evening of artmaking, live music, poetry, and performances.
* Take inspiration from the long tradition of shadow theater and make your own puppet using stencils, scissors, paper, and more! (all materials provided)
* Live Jazz by the Pierre Cornilliat Quartet
* Multimedia performance of original poetry by Mary Shaw, Rutgers Professor Emerita of French, accompanied by the Pierre Cornilliat Quartet and images from the Zimmerli's collection of 19th-Century French Art.
Read an interview with the performers in Rutgers Today and learn more about the evening's program!
Free and open to the public. Complimentary light refreshments. Food for purchase available from Chef Deluxe Me.
Pre-register here for free visitor parking. Registration allows you to park in Lots 11, 16, 26, & 30. Until this process is completed, your vehicle is not registered and you may receive a citation. Special event parking and special event permits are only for visitors to the university and does not include free metered parking. Faculty, staff, and students must park only in lots where they are authorized to park. Please note, this is a unique link for this event and not valid for any other dates or events.
For directions to campus parking lots, search by the lot number on the Rutgers map.
Lot 16 is the closest to the Zimmerli, located behind the museum. For directions, you also may use the address 536 George Street, New Brunswick, NJ 08901, which is the building located next to the lot entrance.