SparkNight: Black History Month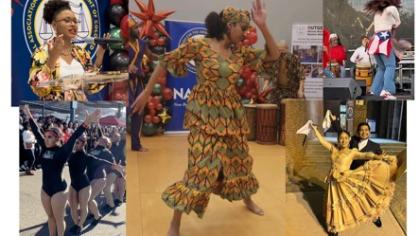 5:00-7:00 pm / Art Activity with BIPOC@MGSA
5:30-6:00 pm / Tour of Works by Black artists in the Arts of the Americas Collection, with Zimmerli Chief Curator Donna Gustafson and artist Alonzo Adams
6:00-6:15 pm / Conversation about Comfort Food in the African Diaspora
6:15-7:30 pm / Cultural Performances of music and dance from West Africa, the Caribbean, Latin America, and the United States. This program is co-sponsored by Central Jersey Alumnae Chapter of Delta Sigma Theta (CJA-DST) and Rutgers African-American Alumni Alliance (RAAA).
6:30-7:00 pm / Tour of Works by Black artists in the Arts of the Americas Collection, with Zimmerli Chief Curator Donna Gustafson and artist Alonzo Adams
Free and open to the public. Complimentary refreshments provided by New Brunswick Cultural Center.
Purchase Afro-Latino specialties at Chef Deluxe Me Food Truck in front of the museum, from noon to 8pm. Select from empanadas, tacos, quesadillas, mac & cheese, and MORE!
Thank you, to all of our community partners in organizing this event!
Free visitor parking is available by pre-registration at go.rutgers.edu/sn020223. Registration allows you to park in Lots 1, 11, 16, 26 & 30. Until this process is completed, your vehicle is not registered and you may receive a citation. Special event parking and special event permits are only for visitors to the university and does not include free metered parking. Faculty, staff, and students must park only in lots where they are authorized to park. Please note, this is a unique link for this event and not valid for any other dates or events.