Painting in Excess Virtual Roundtable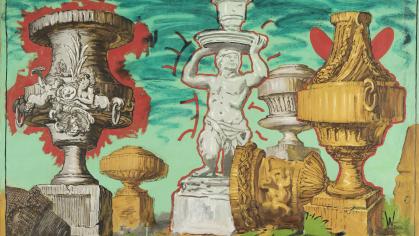 Hear from scholars of Ukrainian art during this online roundtable exploring the impact on perestroika on the art scene in Kyiv and the importance of this time in the emergence of Ukrainian contemporary art. Organized in conjunction with exhibition Painting in Excess: Kyiv's Art Revival, 1985-1993, the symposium will welcome as speakers: Oleksandr Soloviov, a prominent Ukrainian art critic, curator of Mystetskyi Arsenal in Kyiv and witness to the perestroika years in Ukraine; Asia Bazdyrieva, Ukrainian art historian and a co-founder of the Geocinema platform; and Alisa Lozhkina, Ukrainian art historian and the author of the book Permanent Revolution: Art in Ukraine, the 20th to early 21st Century. The speakers are the contributing authors of the forthcoming exhibition catalogue (Rutgers University Press).
The symposium program:
Olena Martynyuk, Opening remarks and introduction to the exhibition
Oleksandr Soloviov, The Point of No Return: The Art of Kyiv at a Historical Crossroads, a general introduction to art of the time, including key exhibitions and art establishments during perestroika. 
Asia Bazdyrieva, Back and Down to Empty Landscapes: Notes on Ukraine's Reverse Modernism, an exploration of the abstract school of the Painterly Preserve group and their relationships with modernism.
Alisa Lozhkina, Prodigal Children of Socialist Realism: New Ukrainian Art and the Soviet Art School, uncovering the unlikely connection between Kyiv neo-expressionist painting and socialist realism.
The presentations will be followed by discussion between the speakers and audience Q&A.
The project is supported by the Avenir Foundation Endowment Fund and the Dodge Charitable Trust–Nancy Ruyle Dodge, Trustee, with additional support from the Abramovych Foundation and the Tymofieiev Foundation. The publication received support from the Ukrainian Institute in Kyiv.