Nadya Tolokonnikova, Pussy Riot - Livestream Added!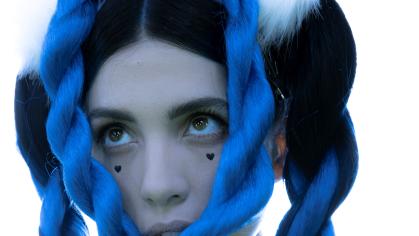 ARTIST TALK

Under the Shadow of Evil: Pussy Riot and Standing Up to Vladimir Putin and His Legacy of Ashes
Pussy Riot creator Nadya Tolokonnikova talks about the hope and despair of facing down the world's most evil dictator: from the hope of anti-Putin marches to Pussy Riot's sham trial, fighting for feminist and LGBTQ+ rights, to Sochi, and the hopelessness in what the world witnesses with the invasion of Crimea and genocidal war in Ukraine.
The lecture is followed by a conversation between the artist and Masha Gessen, staff writer for The New Yorker.
Free and open to the public.
AS OF MARCH 2: The in-person event is SOLD OUT. Please watch the livestream at go.rutgers.edu/march9stream, which is available beginning at 5:45 p.m. on March 9.
If you already have reserved your spot on Eventbrite, please note important updates:
* The event has been relocated to Kirkpatrick Chapel, across from the Zimmerli, at 81 Somerset Street, New Brunswick, NJ 08901. Please consult Rutgers' interactive parking map before visiting campus for parking lot locations and their distance from Kirkpatrick.
* Doors open at 5:15 p.m. to begin check in. Please bring a digital or printed copy of your confirmation. Walk-ups will not be permitted.
* Doors close promptly at 6:00 p.m. No late arrivals will be admitted. Please plan accordingly, to allow enough time from parking lots to venue.
* Seating is general admission. Chapel seating consists of communal wooden pews.
* There are no restrooms in Kirkpatrick. Restrooms are available in Geology Hall or Barnes and Noble.
* If you leave the chapel after checking in, you are not permitted to re-enter.
Free visitor parking is available by pre-registration at go.rutgers.edu/zamparking0309. Registration allows you to park in lot numbers 11, 16, 26, and 30. Until this process is completed, your vehicle is not registered and you may receive a citation. Special event parking and special event permits are only for visitors to the university and does not include free metered parking. Faculty, staff, and students must park only in lots where they are authorized to park. Please note, this is a unique link for this event and not valid for any other dates or events.
About the Artist
Conceptual performance artist and activist Nadya Tolokonnikova is the founding member of Pussy Riot, a global feminist protest art movement. Today, hundreds of people identify as a part of the Pussy Riot community.
Tolokonnikova was sentenced in 2012 to 2 years' imprisonment following an anti-Putin performance. She went through a hunger strike, protesting savage prison conditions, and ended up being sent far away to a Siberian penal colony, where she managed to maintain her artistic activity and, with her prison punk band, made a tour around Siberian labor camps. She also published the book Read and Riot: Pussy Riot's Guide to Activism.
She is the co-founder of the independent news service and media outlet, Mediazona. She has spoken before the US Congress, British Parliament, European Parliament, and appeared as herself on season 3 of House of Cards. Pussy Riot's Punk-prayer was named by The Guardian among the best art pieces of the 21st century ("feminist, explicitly anti-Putin, protesting the banning of gay pride and the Orthodox church's support of the president"). She has collaborated with Bansky on his Dismaland exhibition and been endorsed by Marina Abramovic and Ai Weiwei. She has created an immersive experience in Saatchi Gallery in London.
Pussy Riot stands for gender fluidity, inclusivity, matriarchy, love, laughter, decentralization, anarchy, and anti-authoritarianism. 
Supported by the Avenir Foundation Endowment Fund with additional support from the Dodge Charitable Trust—Nancy Ruyle Dodge Trustee.