Indigenous Arts and Culture Series: Bently Spang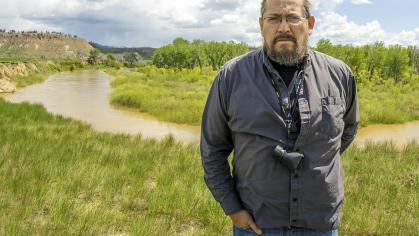 In the talk "Unvanished Native," Bently Spang presents recent works that are central to his commitment as an artist to reclaiming his Indigenous identity and re-expressing a Native-sourced definition of his experience. Spang uses the historical artmaking methodologies, and sometimes re-imagined art forms of his people, to explore issues of cultural continuity and debunk the "mythology of the vanished" created for his and many other Native communities.
Bently Spang is a multidisciplinary artist, writer, curator, and educator. An enrolled member of the Tsitsistas/Suhtai Nation (a.k.a. Northern Cheyenne) in Montana, he works in a variety of media including video, mixed media sculpture, performance, photography, and installation. His work confronts and confounds the persistent, romantic, and inaccurate role crafted for Native peoples in the false narrative of "The West." His work has been exhibited and collected widely in North America, South America, and Europe. Learn more about the artist at www.bentlyspang.com
This talk is part of a series about Indigenous Arts and Culture. Join us at all four:
9/21: Bently Spang | 10/9: Judy Watson (Virtual) | 10/19: Nicky Michael & Camilla Townsend | 11/16: Alan Michelson
Free visitor parking is available by pre-registration at go.rutgers.edu/zamparking0921. Registration allows you to park in Lots 11, 16, 26, & 30. Until this process is completed, your vehicle is not registered and you may receive a citation. Special event parking and special event permits are only for visitors to the university and does not include free metered parking. Faculty, Staff, and Students must park in authorized parking locations according to their parking permit and should not register under the special event parking link. Please note, this is a unique link for this event and not valid for any other dates or events. If you have any problems registering, please send an email to dotshelp@rutgers.edu
For directions to campus parking lots, search by the lot number on the Rutgers map.
Lot 16 is the closest to the Zimmerli, located behind the museum. For directions, you also may use the address 536 George Street, New Brunswick, NJ 08901, which is the building located next to the lot entrance.

Grant funding has been provided by the Middlesex County Board of County Commissioners through a grant award from the Middlesex County Cultural and Arts Trust Fund. Additional support is provided by the New Brunswick Parking Authority.