Celebrating Oleg Kudryashov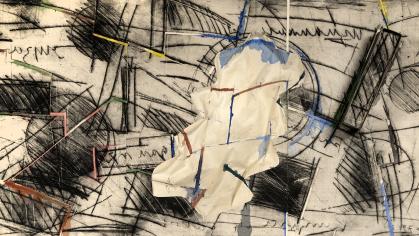 Join us for a roundtable on Oleg Kudryashov, one of the most prominent Russian contemporary artists, who worked primarily in printmaking creating monumental works on paper using etching and drypoint techniques. Kudryashov's life and art represent genuine nonconformity, as he eschewed both political ambitions and social expectations, serving only his calling as an artist. 
Speakers include Christina Lodder, Sergei Reviakin, Robert Brown, and Julia Tulovsky, who offer insights into Kudryashov's art and personality through art historical analyses and personal recollections.  
The artist is the subject of Oleg Kudryashov: A Master of Printmaking, on view through July 31. Organized by Julia Tulovsky, Ph.D., Curator of Russian and Soviet Nonconformist Art, the exhibition is based on a donation by Robert Brown Gallery in Washington, D.C., and the artist himself, as well as selected work from the Zimmerli's Dodge Collection. It celebrates Oleg Kudryashov's ninetieth birthday. The exhibition is made possible by the Avenir Foundation Endowment Fund.
Oleg Kudryashov, Plate 1163, 1984. Drypoint and watercolor on paper on wood base. Collection Zimmerli Art Museum at Rutgers. Norton and Nancy Dodge Collection of Nonconformist Art from the Soviet Union. Gift of the artist. Photo Peter Jacobs.