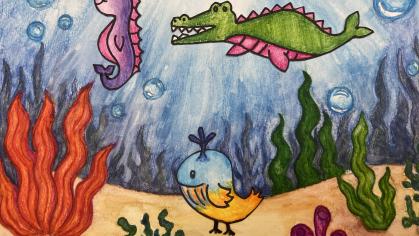 Art Together is the Zimmerli's FREE drop-in family art making workshop series.
Join us to draw and color your own hybrid animals and landscapes, inspired by Paul Claude Gardère's Hybrids, a 1998 mixed media work, currently on view in the Art of the Americas gallery.
Free visitor parking is available by pre-registration at go.rutgers.edu/arttogether0312. Registration allows you to park in Lots 1, 11, and 16. Until this process is completed, your vehicle is not registered and you may receive a citation. Special event parking and special event permits are only for visitors to the University and does not include free metered parking. Faculty, Staff, and Students must park only in lots where they are authorized to park. Please note, this is a unique link for this event and not valid for any other dates or events.
Save the Dates for Workshops Inspired by Upcoming Exhibitions: April 2, May 21
Learn more about all the new exhibitions this semester!
Children looking at Joan Snyder, Brooklyn 2010, 2010. Oil, acrylic, pastel, burlap, fabric, herbs, and rosebuds on linen. Museum Purchase with funds donated by Thea Samit and Sharon Siegel in support of women.