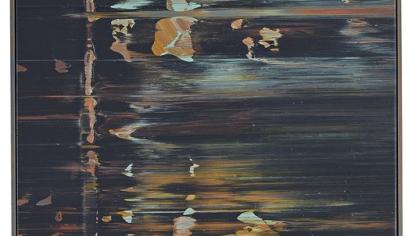 Art Together is the Zimmerli's FREE drop-in family art workshop series. Each month, join us for a new project inspired by a work on view in the museum, and spend some quality creative time together. 
Play with painting in a whole new way! Inspired by the work of abstract painters Jack Whitten, Beverly Buchanan, and Sam Gilliam, this month's project allows you to experiment with a variety of alternatives for applying paint to paper. 
Whitten's painting Lapsang is on view in our Art of the Americas Gallery through March 31. It is on loan from Art Bridges, a foundation that creates and supports programs that expand access to American art in all regions across the nation. They energize the field by exhibiting and activating works of art in exciting and innovative ways, as well as supporting partner institutions in deepening their connection with their communities.
Visitors may park in Lots 16 (behind the museum on George St), 1 (across Hamilton on the hill) or 11. Guests must use the below link to register your vehicle.  Until this process is completed vehicles are not registered and you may receive a citation. Special event parking and special event permits are only for visitors to the University which does not include free metered parking. Faculty, Staff, and Students must park only in lots they are authorized to park in.          
https://rudots.nupark.com/v2/portal/eventregister/e128628e-6df6-48c6-9f03-94a9fc0bdaa8#/events/registration/