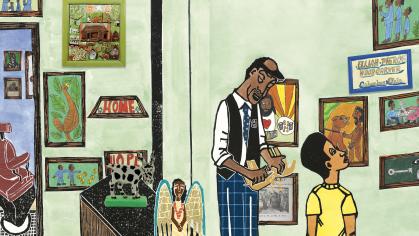 Art Together is the Zimmerli's FREE drop-in family art making workshop series.
Join us for a project inspired by the exhibition You Gotta Meet Mr. Pierce!, featuring illustrations by Jennifer Mack-Watkins. Read an interview with the artist in Rutgers Today!
Free visitor parking is available by pre-registration at go.rutgers.edu/arttogether0402. Registration allows you to park in Lots 1, 11, and 16. Until this process is completed, your vehicle is not registered and you may receive a citation. Special event parking and special event permits are only for visitors to the University and does not include free metered parking. Faculty, Staff, and Students must park only in lots where they are authorized to park. Please note, this is a unique link for this event and not valid for any other dates or events.
Save the Date for the Next Session: May 21
Jennifer Mack-Watkins, illustration for You Gotta Meet Mr Pierce!, color woodcut and digital, published by Kokila, 2023.