"Alonzo Adams: A Griot's Vision" Opening Reception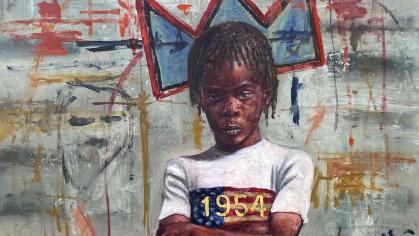 Join the Rutgers African-American Alumni Alliance (RAAA) and the Zimmerli to Celebrate
Alonzo Adams: A Griot's Vision
4 pm / Welcome in the Lobby
6 pm / Remarks Outside the Exhibition
Donna Gustafson, Chief Curator, Zimmerli
Anthony Culpepper, Vice President, RAAA
Monica Weeks, Collector
Alonzo Adams, Artist
Throughout the Evening / Refreshments from Delta's Restaurant & Music by DJ Simon
Free visitor parking is available by pre-registration at go.rutgers.edu/zamparking0923. Registration allows you to park in Lots 11, 16, 26, 30, & College Avenue Deck. Until this process is completed, your vehicle is not registered and you may receive a citation. Special event parking and special event permits are only for visitors to the university and does not include free metered parking. Faculty, staff, and students must park only in lots where they are authorized to park. Please note, this is a unique link for this event and not valid for any other dates or events.
For directions to campus parking lots, search by the lot number on the Rutgers map.
Lot 16 is the closest to the Zimmerli, located behind the museum. For directions, you also may use the address 536 George Street, New Brunswick, NJ 08901, which is the building located next to the lot entrance.
Additional free parking is available 3 to 8pm in the J&J surface lot at Johnson Hall. The address is 501 George Street, with the entrance on Johnson Drive. At the entrance, press the call box button and inform security that you are attending the Zimmerli Art Museum Event and security will open the gate. Upon departure, the gate opens automatically.  
Paid parking is available at parking meters around campus and downtown, as well as in the Gateway Center Parking Garage and several parking decks downtown. Information about locations and pricing are listed on the New Brunswick Parking Authority website.
For information about accessible parking, please visit zimmerli.rutgers.edu/visit/accessibility.