An Afternoon of Nonconformist Art: Conversation and Reenactment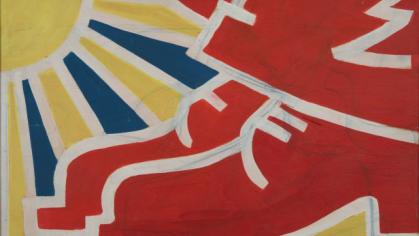 In celebration of the new exhibition Komar and Melamid: A Lesson in History, the Zimmerli invites the public to engage in two unique opportunities, exploring the history and present of the two renowned Russian-American artists Vitaly Komar and Alexander Melamid, who worked together as a duo from 1972 to 2003.
2:00-3:00 pm / Julia Tulovsky, Zimmerli Curator of Russian and Soviet Nonconformist Art, discusses the work of Komar and Melamid with Robert Storr, an art critic, curator, and former dean of the Yale School of Art.
3:00-4:30 pm / The afternoon features a reenactment of the Komar and Melamid performance called "Art Belongs to People." In 1974, the duo first presented it in Moscow, directing four participants with no artistic training to create a large-scale painting of a recent American historical event, using bullhorns, vodka, and inspirational music. They also interspersed the performance with lectures on aesthetics and ideology. In 1984, an artist collective reenacted it at The Kitchen in New York City. 
During this reenactment, volunteers will be selected from the audience to paint on four large canvases under the supervision of Komar and Melamid. Participants will alternate throughout the event. Attendees who are interested in participating may inquire about available spots upon arrival at the event.
4:30-5:30 pm / Reception
Free visitor parking is available by pre-registration at go.rutgers.edu/zamparkingfeb12. Registration allows you to park in lot numbers 1, 11, 16, 26, and 30. Until this process is completed, your vehicle is not registered and you may receive a citation. Special event parking and special event permits are only for visitors to the university and does not include free metered parking. Faculty, staff, and students must park only in lots where they are authorized to park. Please note, this is a unique link for this event and not valid for any other dates or events.
Komar & Melamid, Forward to the Sun (Communism) from the Sots-Art series, 1972. Oil and tempera on panel. Norton and Nancy Dodge Collection of Nonconformist Art from the Soviet Union. Photo Peter Jacobs.