3rd Annual New Brunswick HEART Festival - Downtown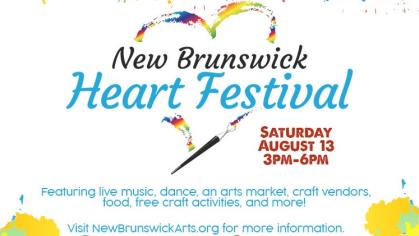 The New Brunswick HEART Festival returns! This year's festival will be full of fun activities, performances, and vendors in front of the theaters at Monument Square at 2 Livingston Ave as well as several parties hosted at local venues throughout New Brunswick!
The FREE outdoor family-friendly arts and history festival features live music and dance performances, dance classes for kids and adults, a visual Arts Market, food and craft vendors, interactive activities, free giveaways, a Health & Wellness tent, and so much more! Hosted by New Jersey Hall of Famer Bert Baron and Founder of TSO Productions, Sharon Gordon. Visit NewBrunswickArts.org for more information. Also, check out the return of the Heart Festival kick off heART Battle at Above Art Studios on August 12! #nbheartfestival
Stop by the Zimmerli table where museum staff guide visitors in creating Pipe Cleaner Architecture! The project is inspired by the recent exhibition Meet Me at the Fair: Universal Expositions in Paris. Did you know that the Eiffel Tower was unveiled during the 1889 World's Fair? Today it remains an important architectural landmark and is recognized by people around the world. Try your hand at architectural design by using pipe cleaners and popsicle sticks to create your own structure worthy of a world's fair. All supplies are provided.Free.